Black Womxn's Herstory Month
#BlackWomxnsHerstoryMonth is a sustained meditation on the historical, political, social, and cultural contributions of #Black #Womxn / #women in the U.S. Fed up with the lack of representation of Black womxn during both #BlackHistoryMonth and #womenshistorymonth , I approached a few artists to collaborate on this research-and-portrait-painting-project with me. This body of work is the result of that process. I created one portrait and a short accompanying description per day beginning February 1st, 2017 and culminating on March 31st, 2017. Please note that these are only a few of the individuals I would like to remember and celebrate. Channeling some of the truth-telling and resistance that these individuals modeled, this project is one small way for me to publicly affirm that Black lives do indeed, matter.
***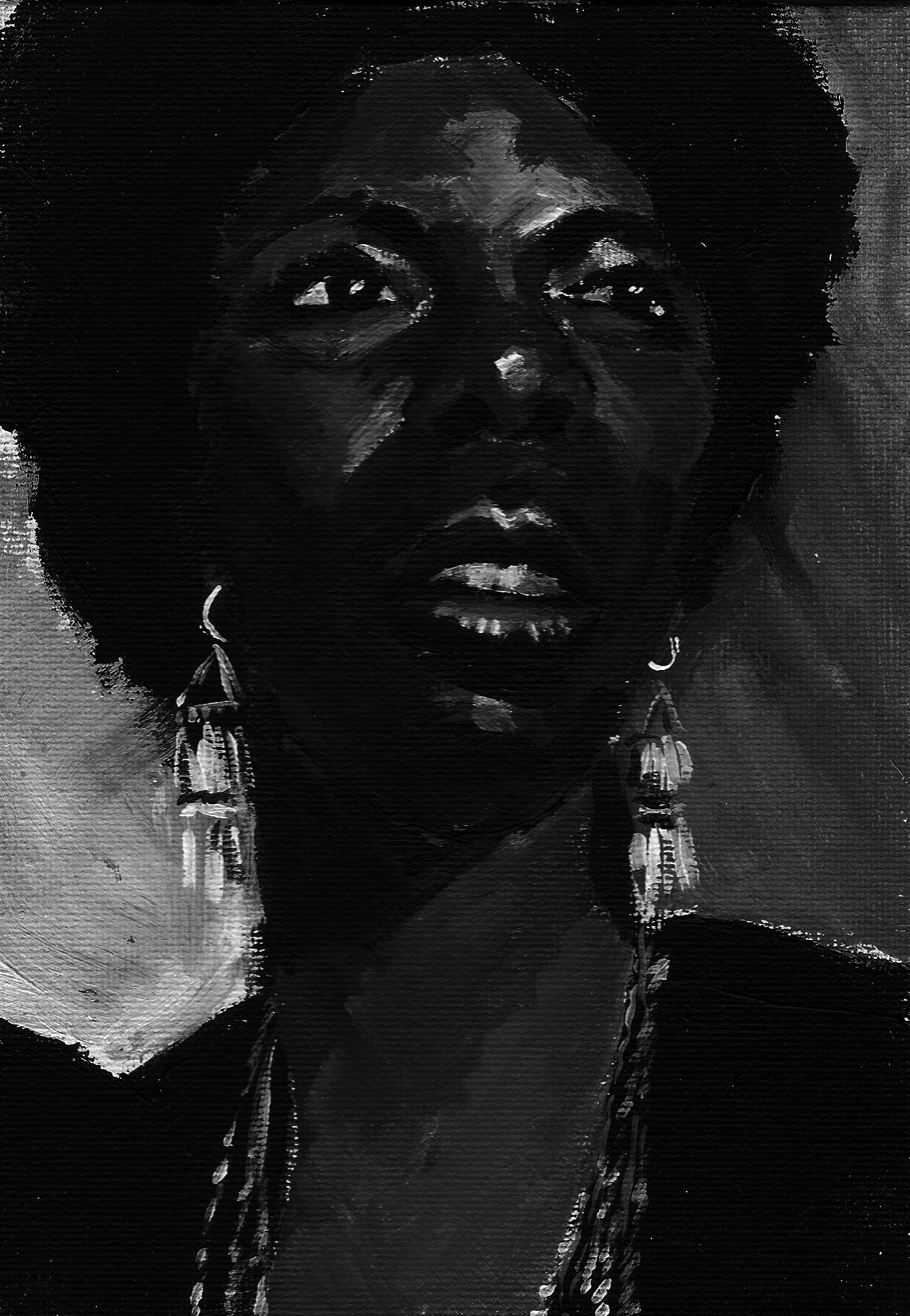 #NinaSimone (1933-2003) was a musical genius and fiercely independent voice known to many as the "High Priestess of Soul." Born Eunice Waymon, she adopted the stage name "Nina Simone" early in her career to ensure her church going relatives wouldn't catch her performing "the devil's music" at a local cocktail bar. A musically gifted and skilled individual from a young age, her aspiration of becoming a professional concert pianist was squelched early on when she was rejected from the prestigious Curtis Institute of Music due to anti-black racism. Despite the initial setback, Ms. Simone would eventually garner international acclaim for her signature blend of technical virtuosity and political activism. She expertly wove together pop, classical, gospel, and jazz with her distinctive vocal styling to fearlessly tackle challenging socio-political content in a way that no one had done before (and arguably none have done since).
"... and at this crucial time in our lives, when everything is so desperate, when every day is a matter of survival, I don't think you can help but be involved. Young people, black and white, know this, and that's why they are so involved in politics. We will shape and mold this country or it will not be molded and shaped at all anymore. So I don't think you have a choice. How can you be an artist and not reflect the times?"
Special thanks to Miss Audrey Samone for providing the quotation.
#AnitaHill (b.1956) is an American attorney and professor of Social Policy, Law, and Women's Studies at Brandeis University. She famously and bravely spoke out against the sexual harassment perpetrated by her boss, Clarence Thomas, while working at the U.S. Department of Education and the Equal Employment Opportunity Commission. She was summoned to testify about his misconduct during Thomas' senate confirmation hearings for his nomination to the U.S. Supreme Court in 1991. Like many victims of sexual assault who testify against their abusers, she endured public ridicule and shaming for speaking out. Her claims were criticized, minimized, and met with disbelief. Shortly after the Thomas confirmation hearings, however, a law was passed by Congress giving harassment victims the right to seek federal damage awards. A year later, harassment complaints filed with the Equal Employment Opportunity Commission increased by 50 percent.
Born in Mississippi to enslaved parents in 1862, #IdaBWells was an anti-lynching and freedom fighting leader and activist as well as a journalist, educator, and suffragist. She was also a founding member of the National Association for the Advancement of Colored People (NAACP). Wells was one of first black women to run for public office in the U.S. when she made her (unsuccessful) bid for state senate in Illinois one year before her death in 1931 as well. Orphaned at early age, Wells became a teacher at age 16 to support her five siblings. She later channeled personal experiences of racial discrimination and the lynching deaths of three of her friends into a lifelong commitment to action-oriented forms of resistance.
Jamaican born #GraceJones is a ground-breaking and genre-defying musician, model, actress, singer, songwriter, and performance artist. She began her career as a model when she moved to New York as an early teen, and then quickly incorporated music-making into her artistic repertoire. Her forays into disco eventually blended with new wave and reggae to create a distinctive beat-driven "electro-Caribbean minimalism." Unapologetically black, wild, androgynous, oft-parroted but never replicated, her flamboyant style, lust for life, and fiercely competitive, driven, and experimental spirit continues to thrill and surprise. As succinctly noted in a Ebony piece from 1979: "Grace Jones is a question mark followed by an exclamation point." Quotations borrowed from here.
#bellhooks is a feminist theorist, teacher, poet, author and public intellectual primarily concerned with the ways gender, race, and class create interlocking forms of oppression. hooks coined the phrase "white supremacist capitalist patriarchy" in an effort to find/create language that continually highlights how all three systems work in tandem. She has spent considerable time and energy investigating the double bind of women of color in particular, namely our experiences of patriarchy in our efforts to resist racism and our experiences of racism in feminist movements. Despite accusations of being "confrontational," she continues to write and critique pop culture, identifying her resistance to being silenced as a key way to refuse domination.
#MichelleAlexander is a renowned author, educator, civil rights advocate, and litigator. Formerly the Director of the Racial Justice Project at the Northern Californian branch of the ACLU, she has also clerked for former U.S. Supreme Court Justice Harry Blackmun. She is best known for her first book The New Jim Crow which was published in 2010. In it, she traces the mutation of the Jim Crow system of overt racialized oppression into the thinly veiled institutionalized racism of the U.S. criminal justice system. The work, which has become a "modern-classic," carefully distinguishes between mass criminalization and mass incarceration and manages to critique both while also exposing the fallacy of colorblindness.
 
#PauliMurray was a black activist, feminist, lawyer, priest, poet, author, and educator. As a founding member of the Congress of Racial Equality, or C.O.R.E. and later the first black woman to become an Episcopal Priest, she was regularly at the vanguard of social movements of her day. As a gender-fluid individual, she challenged not only racism but also sexism within the movements in which she worked. She became a leading civil rights activist during her time, coining the phrase "Jane Crow" to both name and examine the ways in which Jim Crow segregation specifically impacted black women.
#AdrianPiper is an internationally acclaimed conceptual and performance artist, educator, and philosopher who employs her signature pared-down aesthetic to investigate ethnicity and gender, among other topics. She is notable for her performance work disrupting the concept of "passing" (as a white person) that involved her handing out small calling cards emblazoned with the words, "Dear Friend/I am black./I am sure you did not realize this when you made/laughed at/agreed with that racist remark." Her art has "sought to transform the strategies of direct address and physical presence into those of social criticism and political confrontation, the later of which Piper describes as 'therapeutic and also catalytic.'" Piper has taught philosophy at Georgetown, Harvard, Michigan, Stanford, and, in the late 1980's, became the first tenured black female professor in Philosophy in the U.S.
Turiyasangitananda #AliceColtrane was a renowned harpist, organist, pianist, composer, and spiritual educator who created an innovative, unique fusion of blues, jazz, and spirituality. She blazed her own path in a quest to unite musicality with reverence, notable not only for being "John Coltrane's wife" but also for staking out a unique position in the world of music by melding technical mastery of her chosen instruments and her distinctive musical ideas and point of view.
***
More coming soon ...